The Best Luxury Vinyl Flooring Selection in Covington
Enhance the beauty of your room with a floor that perfectly complements your decor. Finding the right flooring surface for your interior design is easy when you shop for luxury vinyl flooring at Noel Maestri's Flooring America! Vinyl is one of the most versatile flooring surfaces available, allowing you to get any look you want at an affordable price. Many patterns and styles are available, including everything from traditional designs to trendy contemporary ones. In fact, luxury vinyl flooring can even mimic the appearance of genuine hardwood and tile floors at a fraction of the usual cost with high-resolution images and embossed or textured surfaces.
Stop by our showroom in Covington, LA, to browse our displays and discover the many design possibilities that luxury vinyl flooring offers. Not sure what would work best with the rest of your decor? Our team of flooring experts is happy to help guide you through our selection of luxury vinyl tile and planks options. Ask us for recommendations, and we'll point you toward the flooring surfaces that match your style preferences, performance expectations, and budget.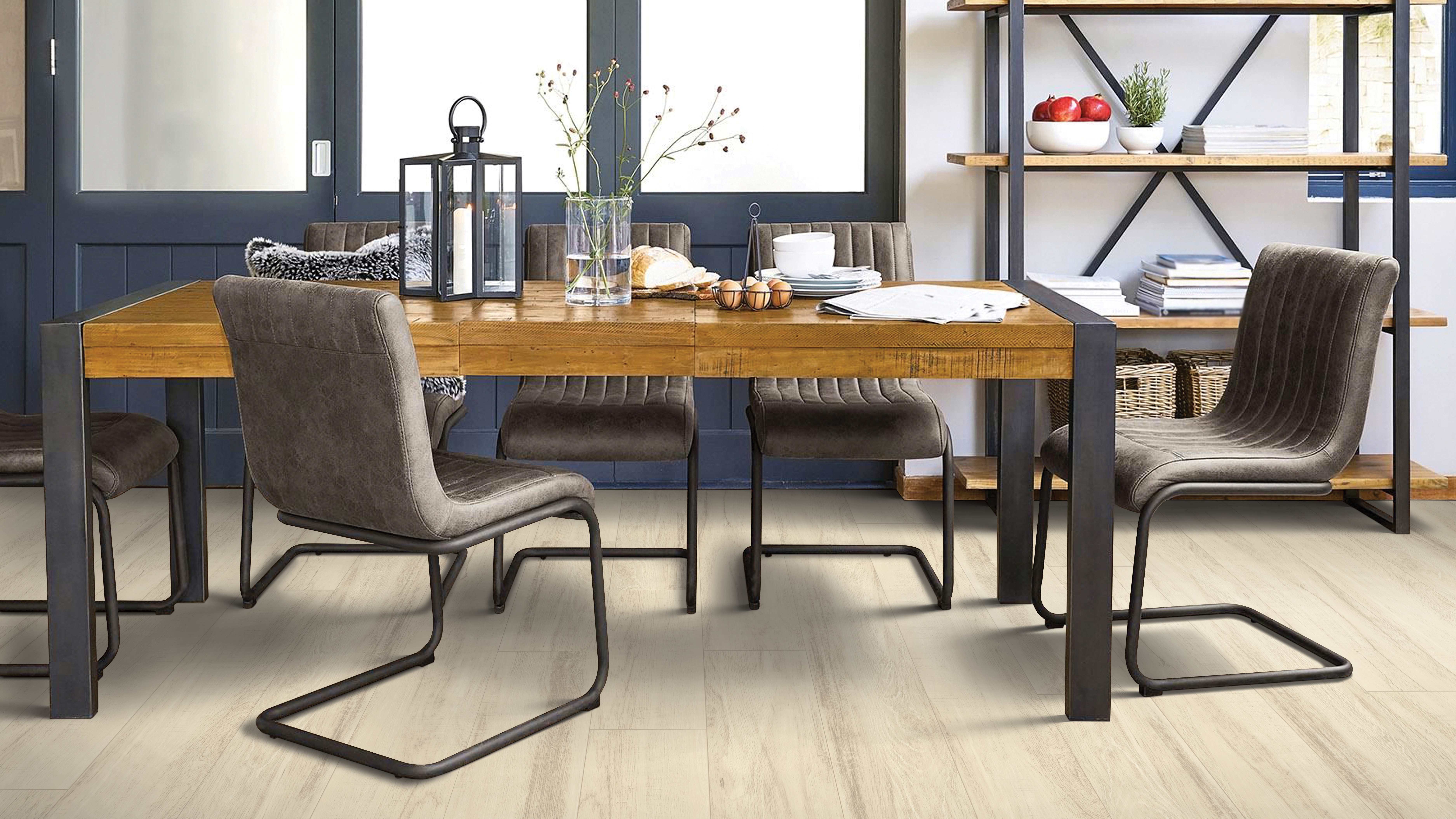 What Types of Luxury Vinyl Are There?
There are two types of luxury vinyl, luxury vinyl plank (LVP) and luxury vinyl tile (LVT). These high-performance materials are exceptionally resilient due to their layered compositions. Either vinyl flooring type is made from several wear layers beneath a resistant vinyl surface designed to stand up strong to even the heaviest foot traffic. Learn more about our luxury vinyl selection:
LVP

is a budget-friendly hardwood alternative made using advanced photographic technology that results in beautiful decorative layers with

authentic-looking

grain and whirl patterns that replicate your favorite types of hardwood.

LVT

mimics the look of porcelain, ceramic, and natural stone tile. Still, it is a comfier alternative that is

softer underfoot

and is ideal for bathrooms, kitchens, and other high-moisture areas of your home.
The Benefits of Luxury Vinyl
We know that the quality of your flooring matters. That's why we only carry luxury vinyl flooring from the best brands in the industry. By only carrying top-quality luxury vinyl, we can provide you with a flooring solution with many benefits. Learn about luxury vinyl's many benefits:
Luxury vinyl is known for being made from

waterproof

materials that can

withstand moisture and standing water

, making it ideal for kitchens, basements, and bathrooms.

Luxury vinyl is a

tough surface

that can withstand even the heaviest foot traffic and roughest wear and tear. It typically comes with a protective layer

resistant to scratching, scuffing, chipping, and cracking

.

It's

easy to keep clean,

and maintenance won't take much of your time

Vinyl is

built to last

and can withstand heavy foot traffic, high amounts of pressure, and can be used throughout your home.

How Do I Keep My New Luxury Vinyl Floors Clean?
Our luxury vinyl flooring is strong enough to withstand spilling, wear and tear, accidents, and more. This makes it the perfect flooring for active families with pets and kids. Luxury vinyl is a waterproof flooring solution that can resist high-moisture environments like bathrooms and laundry rooms. Before using a cleaning product that may contain harsh chemicals that could damage your new luxury vinyl floors, we recommend reviewing your new floor's warranty. Spills and liquids do not match our luxury vinyl, making no-stress cleaning and maintenance. Regular cleaning can be performed by:
Regular sweeping or vacuuming to remove any dust and debris from the floor.

Weekly wet mopping for a deeper clean.
Professional Luxury Vinyl Flooring Installation
No matter what style of vinyl you choose for your room, our installation team is here to help. Proper installation is crucial for flooring. If tiles or planks are placed incorrectly, it may diminish their water resistance capabilities or make them more prone to wear and tear. In fact, many product warranties require professional installation for luxury vinyl plank flooring and tile flooring. Likewise, our installers will ensure your new surface looks just as good in your room as it looked in our showroom. Our professional installers are trained to work with every product we sell and always pay attention to detail. Leave the hard work to us, and we'll have your flooring ready to show off in no time. Our team displays a proven track record of success, backed by some of the best warranties in the industry, including our Ultimate Confidence Guarantee. Should you find yourself unhappy with our work or your new floor, give us a call within 30 days of your installation, and we will gladly replace your floors with a similar model at no additional charge to you.
Contact us
to learn more about our luxury vinyl flooring selection and installation services. We proudly serve customers in Covington, LA, and the surrounding areas.