Durable and Resilient Laminate Floors
Restore the look and feel of your home or business with our affordable selection of laminate flooring at Noel Maestri's Flooring America! When you've decided to replace the fading floors in your space, visit our expansive showroom in Covington, LA, and speak with one of our friendly flooring experts. We ensure you are delighted with every aspect of your flooring investment. Listening to your needs helps us identify the right laminate flooring option for your home or business. With so many color, design, finish, and style options, you will surely find the best laminate floors that suit your space in terms of looks, performance, and budget.
Innovations in laminate floors make it possible to create the look of such high-end flooring as hardwood and natural stone. When you get more value for your flooring dollar, you can broaden your design horizon and cover even more rooms for less. With our help, it is possible to get the durability and affordability you need without sacrificing the modern look you have in mind.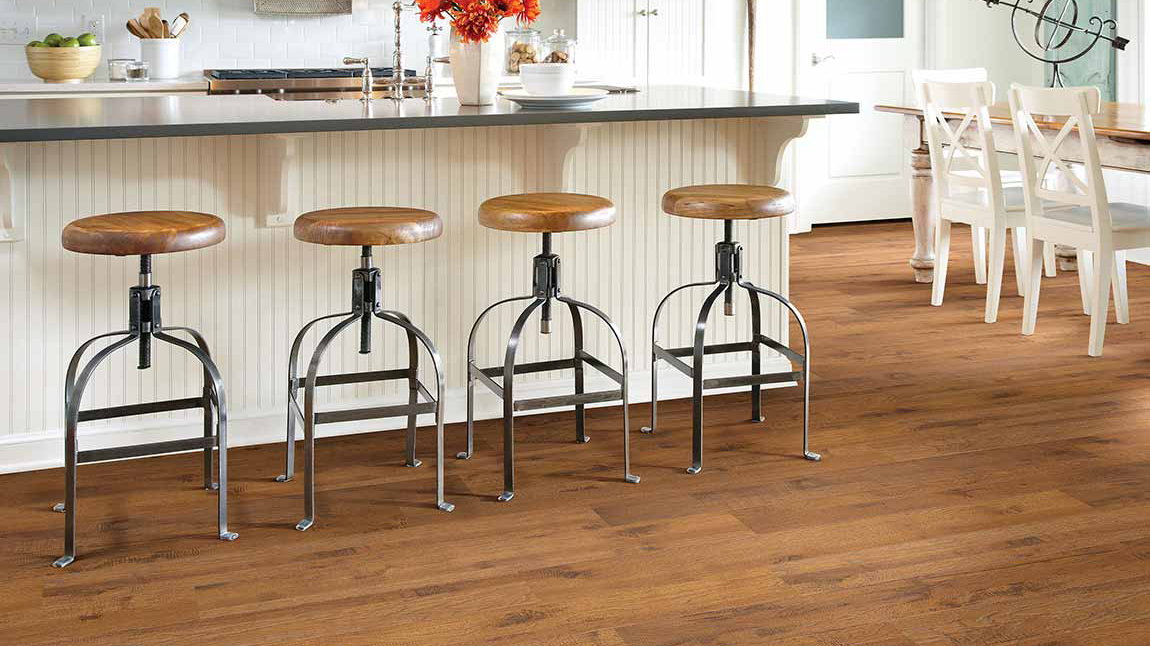 What Types of Laminate Flooring Are There?
Laminate comes in two styles - laminate wood flooring and laminate tile flooring. Both styles offer an affordable but high-end look that will freshen up any space in your home. Learn more about the laminate flooring styles:
Laminate Wood Flooring

mimics the look of hardwood flooring, but it is more durable and is easier to maintain. This type of laminate is made to look like your favorite wood species, such as mahogany and oak. Its high-quality photogenic layer and clear coating on top allow you to see the image of wood beneath.

Laminate Tile Flooring

replicates the beautiful appearance of real stone flooring at a lesser cost. Our selection of laminate resembles different types of tile flooring, such as porcelain and ceramic.
How is Laminate Flooring Made?
Laminate offers a solid appearance and contains four distinct layers. It is manufactured with a base that protects against moisture and a core that withstands heavy foot traffic and everyday wear and tear. Two methods are used in manufacturing laminate flooring: direct and high-pressure. Both methods produce gorgeous flooring in various colors and patterns, resembling wood and stone. Stunning and resilient laminate flooring is made using one of these processes:
The

direct-pressure method

fuses all four laminate layers simultaneously. This method makes the most affordable and common types of laminate flooring.

The

high-pressure method

fuses laminate layers one at a time with higher amounts of weighted pressure and heat to produce the most durable forms of laminate flooring, making it ideal for commercial spaces.
What Are The Benefits of Laminate Flooring?
The benefits of laminate flooring are nearly endless. Laminate has become a favorite for active households as an impressive and convincing alternative to high-end floorings such as hardwood and tile. We only carry laminate flooring from the best brands and manufacturers in the industry, like Floorcraft Maysville, so you don't have to worry. Our top-quality laminate flooring is because it is:
Manufactured to be highly

durable and resilient.
Hygienic

and easy to keep clean.

Realistically mimics

hardwood and tile.

Scratch and

water-resistant

.

Affordable

and less expensive than its traditional alternatives.

Comes in a

variety of styles and colors

.
How Do I Maintain My New Laminate Floors?
While other flooring types require refinishing or touch-ups, laminate flooring needs very little upkeep, and a simple cleaning routine will keep it looking brand new for years to come. To keep laminate clean, you only need a weekly sweep to remove dirt and debris and the occasional mopping. When cleaning your laminate floors, we recommend using a laminate cleaning product for the best results. Check your new floor's warranty before using any cleaning products, as they could damage your new floors. We are happy to recommend a product that fits your warranty.
Professional Laminate Flooring Installation
Protect the value of your new flooring investment by working with our skilled and certified laminate flooring installation team. Getting the right fit is critical in extending the life and looks of your flooring purchase, and we have the team that gets the job done right the first time. With competitive pricing on floors and laminate flooring installation, there has never been a better time to restore the value of your home and business.
With our help, you never have to worry about your flooring renovation. Our promise of a quality job is backed by some of the best guarantees in the industry, including our Ultimate Confidence Guarantee. We promise that should you be unhappy with your new laminate flooring for any reason, call us within 30 days of your installation, and we will replace it with a similar product at no additional cost.


Contact us today for a free estimate on the pricing for the new laminate flooring you have been dreaming of. We proudly serve customers in Covington, Abita Springs, Madisonville, Mandeville, and Lacombe, Louisiana, and surrounding areas.