Carpet Flooring in Covington, LA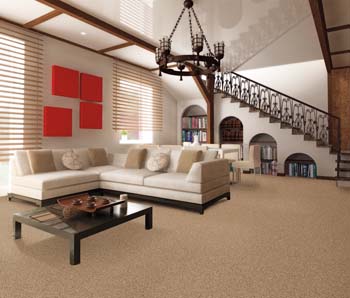 If your floors have seen better days, it may be time to update your home by placing a new surface underfoot. At Noel Maestri's Flooring America, we offer a wide variety of carpet flooring in Covington, LA, for home and business owners alike. As a proud member of the Flooring America network, we're well equipped to provide shoppers with premium flooring materials from several of the industry's most respected names like Bedford Mills, Gibraltar, and Hearth & Home. Find the right furnishings to soften your space in our expansive carpet store.
Fitting your interior with a new carpet offers several benefits, some of which include nearly limitless design possibilities, reduced room noise, and a soft cushion underfoot. We're confident that you'll find a selection that will meet your needs when you browse our vast inventory. Should you have any trouble choosing something for your remodeling effort, our knowledgeable specialists are always available to help you find a suitable selection.
Offering Floors Fit for Any Interior
Our trusted team members understand that every project presents a unique set of challenges. That's why we proudly carry a wide assortment of commercial carpet and residential carpet choices fit for any remodeling project. We've made it our mission to take an individualized approach to every remodeling effort to ensure each property owner comes away with a new floor that satisfies their artistic aspirations and practical needs.
From choices made of polyester, nylon, and wool to Berber carpet and carpet tiles, shoppers of every taste will surely find an excellent option that will serve them well when they browse our wide-spanning range of materials. With coloring options ranging from rich chocolates to gorgeous grey to almost every color in-between, we're confident that the right color for your project is waiting for you in our fully stocked showroom.
Request a Professional Carpet Installation
When you're ready to beautify your home or office space with a colorful, convenient flooring material, trust our experienced crew member with your carpet installation needs. We bring experience and skill to every job we perform, so you don't need to worry about any problems with your installation.
We're so confident in our abilities that we offer a Lifetime Installation Guarantee. Simply put, if you ever have a problem with your installation, we'll be glad to fix it at no charge. Let our full-service carpet installation team help you transform your space from something ordinary to extraordinary with new flooring that's equally comforting and stylish.

Contact our specialists to fit your home or workplace with attractive, functional carpet flooring. We proudly serve property owners in Covington, Abita Springs, Madisonville, Mandeville, and Lacombe, Louisiana, and the surrounding areas.