Switch to Luxury Vinyl Tile in Covington, LA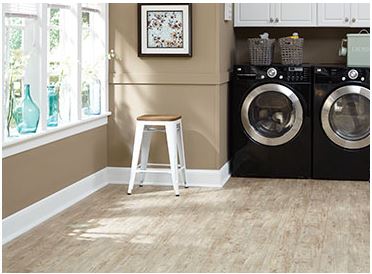 Looking for a flooring material that can keep up with your family's hectic lifestyle, and look good doing it? It's worth your time to consider luxury vinyl tile. In Covington, LA, our flooring showroom carries a large selection of luxury vinyl products, including plank, for your convenient perusal. Stop by today to learn why more and more families are switching to beautiful, sturdy LVT.
What is Resilient Flooring?
You may have heard the term "resilient flooring" before, but many people are unfamiliar with the relatively new way of referring to firm, yet flexible flooring materials. Floors categorized as resilient lie somewhere between hard floors (such as hardwood) and soft floors (such as carpeting). The most commonly known resilient material is vinyl, which is gaining popularity in homes throughout the country.
Resilient flooring is a good choice for families that prefer flooring that offers both comfort and durability. With luxury vinyl, you can enjoy the best of both, and in your preferred color and pattern.
Types of Luxury Vinyl
The beauty of luxury vinyl flooring is that it is manufactured to imitate the look and texture of "natural" flooring materials. If the costs associated with real stone or hardwood planks have turned you off, luxury vinyl tile and plank are excellent alternatives. Plus, vinyl requires very little in the way of maintenance or general upkeep, making it an even better choice for families that don't have the time or energy to clean frequently.
Luxury Vinyl Floor Tile: Do traditional stone and porcelain tiles have you shelling out extra for maintenance? Skip the hassle of grouting and replacing chipped tiles - instead, switch to luxury vinyl tile and save. A one-time investment in durable LVT can save you years of wasted time, energy, and money.
Luxury Vinyl Plank Flooring: Hardwood is beautiful, but it requires regular care. Refinishing and sealing are essential to preserving its appearance, making it less and less popular for busy homeowners. Thankfully, with luxury vinyl plank's creation, families now have the ability to enjoy hardwood's beauty with none of the maintenance and enjoy it in moisture-prone areas such as the bathroom and kitchen.
Schedule Your Installation Today
The best way to ensure your new luxury vinyl tile or plank floors perform to your expectations is by choosing professional installation services. After all, if floors aren't installed properly, they run the chance of being permanently damaged by everyday wear and tear. It's well worth your time to enlist the help of a team that specializes in luxury vinyl tile installation.

Contact us or visit our showroom today to see what kinds of luxury vinyl tile we have in stock now. We proudly serve residents of Covington, Louisiana, and nearby areas.