Luxury Vinyl Planks in Covington, LA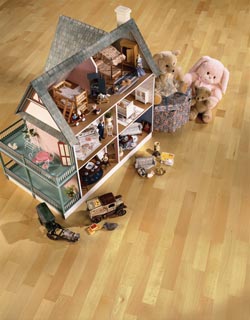 Create the look you want in your home when you shop our selection of luxury vinyl planks in Covington, LA. At our local showroom, we carry a wide variety of luxury vinyl plank floor products for rooms of all sizes. Whether you are looking for a classic or contemporary style, you will find the perfect option for your residence when you visit us at Noel Maestri's Flooring America.
Luxury Vinyl Plank Offers Classic Styles
Homeowners often dream of adding the stunning appearance of hardwood to their spaces. When you are eager to make a transformation in your home, but are looking for a softer option, choose luxury vinyl planks. Vinyl planks offer a softer feeling underfoot than other hard surface materials do and are a versatile option that can be applied in any location.
When you install luxury vinyl planks in your home, you will achieve the fresh style you want. Vinyl is crafted to last for years to come while requiring very little maintenance to keep it looking great.
Vinyl Planks: A Flawless Addition
Hardwood flooring is one of the most popular materials for homeowners. However, it is important to note that this surface is not ideal for every room in a residence. In spaces with higher levels of moisture and humidity, hardwood will often begin to swell, warp, and develop other problems. Bathrooms, basements, and other moisture-prone areas need more durable material to prevent this damage from occurring.
Achieve the setup you want without the need for additional care or maintenance when you install luxury vinyl planks in your home. These stunning planks are both beautiful and durable, and they hold up to moisture for a look that lasts. When you select vinyl plank for your home, you will not have to stress over damage caused by pet stains, spilled beverages, and other accidents.
Choose Our Luxury Vinyl Plank Floor Installation Services
Stop in today to browse the selection at our local showroom. Our professionals are happy to show you how easy it can be to create a new style in your home. We are proud to provide a full luxury vinyl plank floor installation for each of our clients. Our experienced contractors are able to work quickly and efficiently to perform this service, as the existing tile does not need to be removed before the new floors are installed.
Soundproofing & Insulation from Luxury Vinyl Planks
When you need extra insultation and soundproofing in your home, choose luxury vinyl planks. This material is crafted to deliver these benefits for a functional and attractive setup.

Contact us in Covington, Louisiana, to shop our collection of vinyl planks for your home. Our showroom features products for customers throughout Abita Springs, Madisonville, Mandeville, Lacombe, and surrounding areas.